Thermal Expansion Bladder Tanks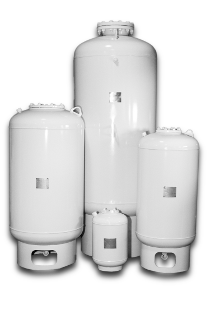 Thermal expansion bladder tanks are required in a closed loop heating or chilled water HVAC system to absorb the expanding fluid and limit the pressure within a heating or cooling system. A properly sized tank will accommodate the expansion of the system fluid during the heating or cooling cycle without allowing the system to exceed critical pressure limits.
As water is expanded, it is contained in the bladder preventing tank corrosion and water logging. The pressure controlling air cushion is pre-charged at the factory and can be adjusted in the field to meet critical system requirements. This design and operation of this style of expansion tank allows the designer or specifying engineer to reduce tank sizes up to 80%.
Bladder tanks have a totally replaceable bladder. This tank must be equipped with large service openings and also allow the bladder to be replaced without having to remove the tank from its mounting.

Were you looking for a non-replaceable thermal bladder tank?
  Divider
TXA Series (ASME)
The TXA is one of the industry's most robust bladder style tanks with a range of features that include:
Heavy-duty replaceable butyl bladder
Sizes range from 10 to 528 gallons
Working pressures of 150 psi (std), 200 and 250 psi
The TXA bladder style tanks boast many advantages over other style thermal expansion tanks.
Can be easily replaced in the field
Free standing models have a system connection at the bottom of the tank
Designed to prevent any harmful build-up of dirt, grit or system contaminants
Easy draining to assist in establishing proper air charge
TXA 35-2000


  Divider
TX Series (Non-ASME)


The TX Series tanks are designed for use in low pressure residential systems and in light commercial systems where ASME construction is not required.
Heavy-duty replaceable butyl bladder
Sizes range from 2 to 80 gallons
Factory pre-charged to 40 psig (field adjustable)
Rated for 200°F operation